Contact us
Phone :  1-866-562-6317
Email:  adm@uriderm.ca
Partners in well-being of your patients.
Uriderm Medical helps nursing staff manage changes in incontinence briefs.
It allows quick and targeted intervention for a patient at risk of complications from incontinence or requiring special care.
Better management of protection changes brings many benefits:
A notable improvement in patient comfort.
Time-saving for nursing staff.
Reduced risk of infections and other complications.
Possible acceleration of healing.
Less time to heal wounds or to apply creams and antibiotics.
Opportunities to save money by reducing the consumption of creams, antibiotics, dressings and other consumables.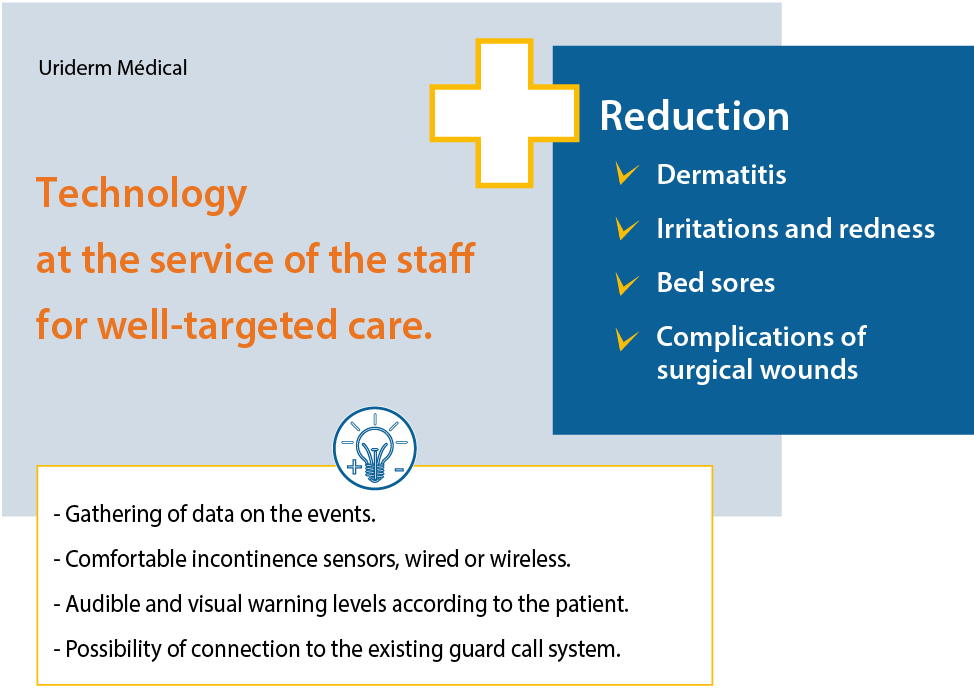 No more manual inspections

When the "Uriderm" system detects an incontinence event, it sends a discreet notification to the healthcare staff or caregiver to inform them that the underwear needs to be changed. This notification can be sent in different forms defined by the institution (emails, text messages, PBX, or others).
Uriderm is fully configurable to personalize interventions based on the user's skin sensitivity and level of care required. It allows for more targeted intervention for a patient at risk of complications related to incontinence or requiring specific care (such as skin wounds or dermatitis).
The system can collect data on incontinence events. This data can be exported for generating reports or establishing a user's incontinence profile.
The use of Uriderm allows for:
More efficient management of incontinence
Assisting healthcare staff and caregivers
Eliminating manual checks of the underwear
Reducing or eliminating nighttime rounds
Decreasing skin care needs
Improving hygiene
Establishing an incontinence profile
Detecting events even if the user is mobile
Assisting with home care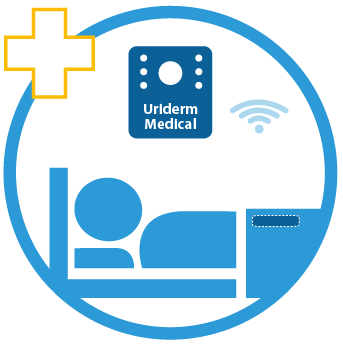 Technology
–  Comfortable incontinence sensors, wired or wireless.
–  Customizable supervision level for each patient.
–  Evidence-based event data collection.
–  Configurable visual and audio indicators.
–  Connectivity to the network via Wifi
–  Possible connection to the on-call system.
An efficient tool for home care.
(
Tool and Support for Caregivers)
Recently, the difficulties experienced by the healthcare system (pandemic and workforce shortage) have led us to develop an incontinence management system designed and adapted to the needs of the network while promoting home care.
URIDERM – Incontinence Management System is unique and aims to achieve three objectives:
1)  Promote home care by supporting family caregivers with an effective and connected technology that allows for communication with medical staff if desired.
2)  Improve the quality of life for elderly individuals and patients with disabilities or other conditions requiring specialized care and monitoring to ensure their well-being.
3)  Provide technological assistance to healthcare personnel in the healthcare network to support them in their daily tasks of changing incontinence underwear.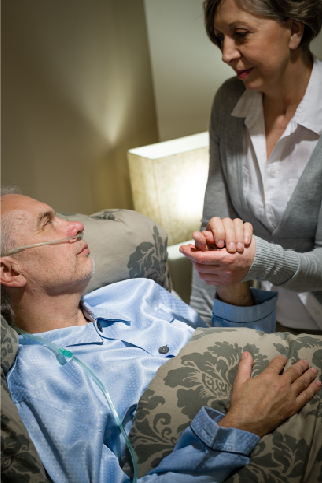 The whole family will appreciate relying on a powerful device that will allow them to take care of their loved ones.
Collecting data on incontinence events will allow a better follow-up and help detect possible complications.
Get a risk-free trial and see for yourself all the possibilities.
Phone :  1-866-562-6317
Email:  adm@uriderm.ca